Step back in time as we explore the fascinating history of the United States in Pennsylvania, Virginia, Maryland, Delaware, and D.C. We will visit prominent battlefields and museums while discovering places rich in American history like Gettysburg National Park, Antietam National Battlefield, and Arlington National Cemetery. From Valley Forge to the United States Naval Academy, this tour will take you to many of the places you have only read about in books.
Visit Gettysburg National Military Park
Tour Arlington National Cemetery
View the Declaration of Independence
Take a narrated cruise around Annapolis Harbor
Stay at the 5-star Watergate Hotel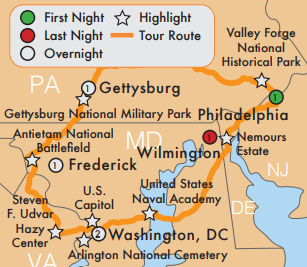 DAY 1: WELCOME TO PHILADELPHIA!
Arrive today in the "City of Brotherly Love". At our evening welcome dinner, you'll get to know new friends and Tour Director! D
DAY 2: HISTORIC MILE/VALLEY FORGE
We start our day transported back in time to America's most historic square mile where a period attired guide will deliver an authentic experience rich with historical content. Then, visit the Betsy Ross House and learn about the extraordinary life of this 18th century woman. After lunch, we head to Valley Forge where our knowledgeable step on guide will take us to the key places in the encampment site of the Continental Army. Our dinner tonight will be at the Historic Dobbin House in Gettysburg, where Abraham Lincoln will be joining us! B, L, D
DAY 3: GETTYSBURG CIVIL WAR MUSEUM/ANTIETAM NATIONAL BATTLEFIELD PARK
This morning, follow the route of Lee's Army to Gettysburg and enjoy an informative introduction to the park at the Visitor's Center. We will see the Gettysburg Civil War Museum and Cyclorama which depicts Picket's Charge. We'll also enjoy the 22-minute film, A New Birth of Freedom narrated by Morgan Freeman, which will give you a dramatic look at the Battle of Gettysburg. After lunch, we head to Antietam National Battlefield Park where the bloodiest one-day battle in American History took place. We cap off today at the Pry House Field Hospital Museum which served as the headquarters and hospital during the historical battle of Antietam. B, L
DAY 4: NATIONAL AIR AND SPACE MUSEUM/WATERGATE HOTEL
Our first stop today is the Steven F Udvar Hazy Center, also called the Smithsonian National Air and Space Museum. Here we'll see thousands of aviation and space artifacts, including the Space Shuttle Discovery! Our next stop takes us to Arlington National Cemetery where the rolling hills mark the final resting place for more than 14,000 veterans, including those who fought in the Civil War. Then we're off to the charming Foggy Bottom neighborhood of Washington, D.C. to check into the 5-star Watergate Hotel for our two-night stay. We will learn about the history of the hotel and the infamous "Scandal Room" during our exciting stay. B, D
DAY 5: U.S CAPITOL BUILDING/NATIONAL ARCHIVES
We start our day with a tour of the United States Capitol, the meeting place for our nation's legislature. Next, we head to the National Archives to get a firsthand look at the Declaration of Independence and other key historical documents. Tonight we board
our motorcoach for a tour of the monuments at night to see the evening sparkle of the Lincoln Memorial, Washington Monument, Vietnam Memorial. Your Tour Director will provide historical context for each stop while you gaze at our nation's most beautiful monuments in a way many people never get to see them. B, D
DAY 6: ANNAPOLIS/U.S. NAVAL ACADEMY
Today we'll head out of Washington D.C. towards the beautiful seaside town of Annapolis. This former Capital of the United States will charm us with its enchanting streets and beautiful waterfront. Our period attired guide will share four centuries of history with us as we tour the Maryland State House and the U.S. Naval Academy. After lunch, step aboard the Harbor Queen for a narrated cruise of Annapolis Harbor and catch a glimpse of the Chesapeake Bay Bridge. B, L
DAY 7: NEMOURS ESTATE/HOME
After breakfast, head to Nemours Estate, a beautiful 77-room, 200-acre country estate with stunning formal gardens patterned after the gardens of Versailles. We then head back to Philadelphia and say goodbye to the friends we have made before traveling home. B
Dates:
Departure: September 21, 2024
Return: September 27, 2024
Pricing:
Double: $2,999
Single: $3,749
*Price per person
*Includes round-trip airfare from STL or MCI (call for other gateway cities)
Luggage:

Orange luggage tags are provided and are to be placed on your "checked luggage" (large bag). You do not need a tag for your carry-on bag, for which you will be responsible for taking on and off the coach. There is limited space in the cabin of the coach, so unless you require your carry-on bag while traveling, we will stow it in the luggage compartment.
Important Information:
New reservations will require a $250 per person deposit unless otherwise noted. As always, your deposit is still fully refundable for any reason until final payment. We are happy to accept cash, check (preferred) or credit card (Visa, Mastercard, Discover) for your deposit.
Throughout 2021 we limited capacity on all our tours. This policy was so overwhelmingly popular by Sunrise travelers, we have made it permanent. In 2022 and beyond, we will limit the capacity on our motorcoaches to 80%. Most Sunrise Tours travel on 50-seat coaches with extra legroom, which means guests will enjoy extra legroom AND at least 6-8 empty seats. In the rare cases when we charter a 55-seat coach, there will be at least 10 open seats on the bus.
Our popular on-board refreshment service on travel days will feature a variety of soda, beer, wine spritzers, juices and sparkling water choices served in recyclable aluminum cans. This is a safe and eco-conscious way for us to deliver the ever-popular Sunrise Tours "happy hour" on tour. We do not typically serve bottled water and ask that while on tour you be responsible for your own hydration and consider the Sunrise Tours drink service a welcome refreshment.
Terms and Conditions:
Please refer to our policies HERE for more information on our terms and conditions.

Share it
---