Stop and smell the roses at the 134th Rose Parade tour. Always a favorite, this tour highlights a behind-the-scenes look at the fantastic Rose float construction, reserved seating at the Parade, a Warner Brothers Studio tour and a guided visit to the Ronald Reagan Presidential Library!
A History of the Tournament of Roses
In 1890, Valley Hunt Club members, led by Charles Frederick Holder, sponsored the first Tournament of Roses. The abundance of flowers, even in the midst of winter, prompted the club to add a parade before the competition, where entrants would decorate carriages with hundreds of colorful blooms.
"In New York, people are buried in snow," announced Professor Charles F. Holder at a Club meeting. "Here our flowers are blooming and our oranges are about to bear. Let's hold a festival to tell the world about our paradise."
More than a century later, the parade floats are a marvel of state of the art technology, all tucked away beneath flowers and other all-natural materials. Every New Year, visitors experience the beauty of the floral floats along with spirited marching bands and high-stepping equestrian units along the 5 1⁄2 mile route down Colorado Boulevard.

Official history, Tournament of Roses


The Great Rose Bowl Hoax
The Great Rose Bowl Hoax was a prank at the 1961 Rose Bowl, an annual American college football bowl game. That year, the Washington Huskies were pitted against the Minnesota Golden Gophers. At halftime, the Huskies led 17–0, and their cheerleaders took the field to lead the spectators in the stands in a card stunt, a routine involving flip-cards depicting various images for the audience to raise. However, students from the California Institute of Technology managed to alter the card stunt shown during the halftime break, by making the Washington fans inadvertently spell out CALTECH.
The prank has been described as the "greatest collegiate prank of all time" and received national attention, as the game was broadcast to an estimated 30 million viewers across the United States by NBC. One author wrote, "Few college pranks can be said to be more grandly conceived, carefully planned, flawlessly executed, and publicly dramatic" than the Great Rose Bowl Hoax.

Since 1890, the Tournament of Roses has produced America's New Year Celebration. Be a part of history cheering on the floats and bands!
Spend the day sightseeing the City of Angels with a local expert.
See the Hollywood Bowl, Mann's Chinese Theatre, Hollywood Walk of Fame, Sunset Strip, Beverly Hills, Rodeo Drive and so much more
Visit to the Ronald Reagan Library and Museum
Travel up 1,134 feet to the Griffith Observatory on the slope of Mount Hollywood with spectacular views of LA
Guided tour of the legendary entertainment mecca, Warner Brothers Studio Tour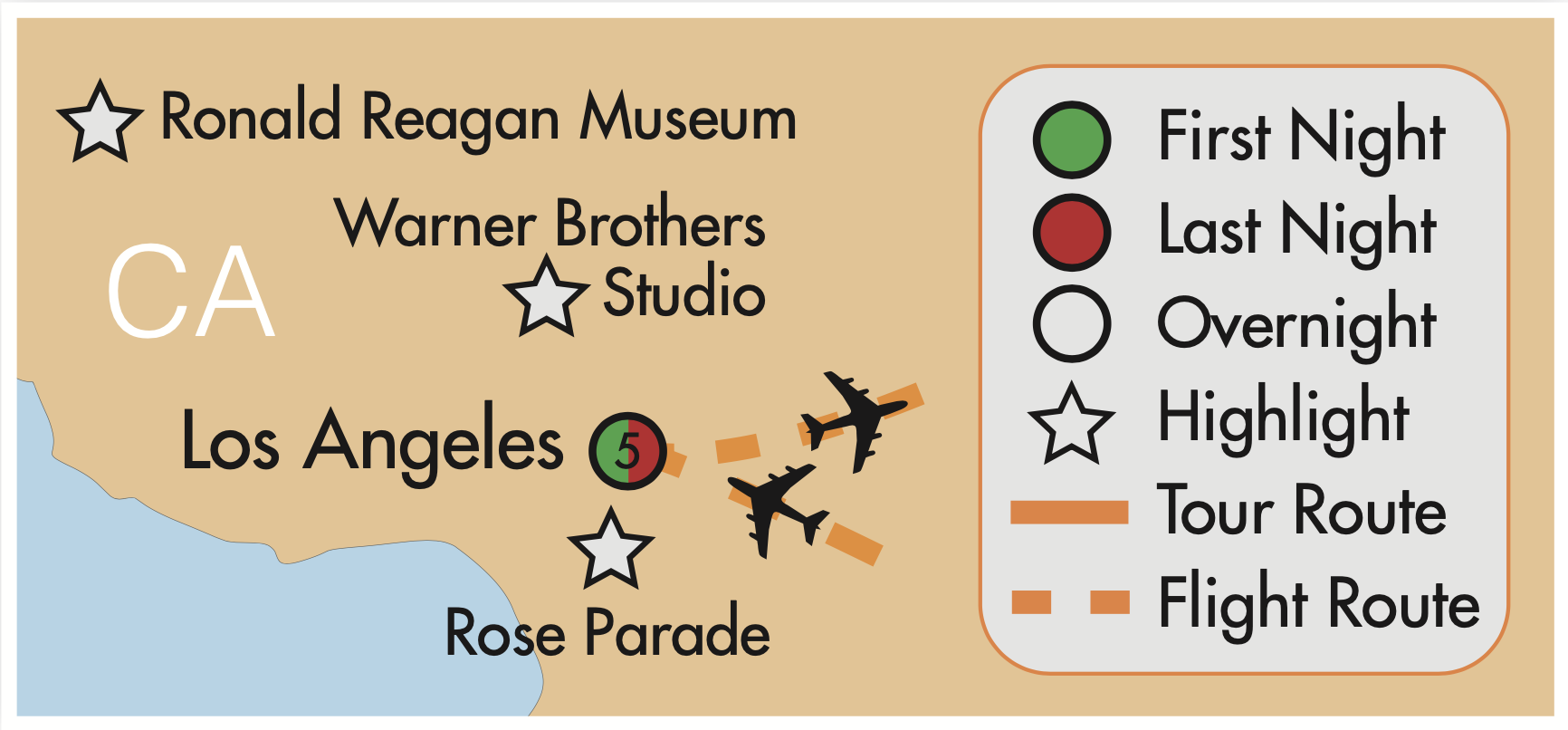 DAY 1: FLY INTO LOS ANGELES
Catch a flight into Los Angeles and check into the comfortable and centrally located full-service Renaissance Los Angeles airport hotel for a five-night stay. D
DAY 2: GETTING TO KNOW LA!
Spend the day sightseeing the City of Angels with a local expert. See the Hollywood Bowl, Mann's Chinese Theatre, Hollywood Walk of Fame, Sunset Strip, Beverly Hills, Rodeo Drive and so much more. Celebrate the holidays with dinner at Fogo de Chao and tap your toe to Christmas caroling by local musicians. B, D
DAY 3: REAGAN LIBRARY
Take a scenic drive along the coast and over mountains to Simi Valley for a visit to the Ronald Reagan Library and Museum. The exhibits are designed to honor his accomplishments and patriotic spirit. Tour the museum, view a full-size replica of the White House Oval Office, the office in which President Reagan never took off his suit jacket, and walk onboard the actual Air Force One aircraft, tail number 27000, which flew seven US presidents. B, L
DAY 4: BEHIND THE PARADE SCENES
Go behind the scenes to see how the Rose Parade floral floats are constructed and decorated. The volunteers are thrilled to let you discover the final stages of float decorating before their debut in the parade! Enjoy lunch on your own before a guided tour of the legendary entertainment mecca, Warner Brothers Studio Tour. You'll get closer than ever before to iconic backlots and soundstages of today's hottest TV shows and movies. Gather 'round the table for a special dinner celebrating "New Year's Eve!" Return to the hotel to be ready to rise early the next morning for the celebrated Rose Parade. B, D
DAY 5: TOURNAMENT OF ROSES PARADE
Enjoy a great view of the Tournament of Roses Parade from your reserved seating - you can't help but get caught up in the excitement of the crowd as the striking floats and well-rehearsed marching bands pass by! Chat about the parade over lunch then kick off the New Year with free time to relax or explore LA at your leisure. B, L
DAY 6: FLY HOME B
Travel up to 1134 feet to the Griffith Observatory on the slope of Mount Hollywood. Grab a telescope and see why Mr. Griffith said, "If all mankind could look through that telescope, it would change the world." Reflecting on your adventure, take in the spectacular views of the City of Angels, before departing for your journey home. B
Dates:
Departure: December 29, 2022
Return: January 03, 2022
Pricing:
Double: $2559
Tpl/quad: $2329
Single: $3159
*Per person rates
* Includes round-trip airfare from STL or MCI

Identification:

Since we are traveling by plane you must bring a valid state-issued ID or passport.

Average Temperatures and Dress:

We suggest a hat, sunglasses, sunblock and an umbrella in case of inclement weather and you may want to pack a swim suit if you would like to swim in the hotel pool. New Year's Eve dinner will be celebrated at Tony P's Dockside Grill in Marina Del Ray. Dressing up for the evening is your choice. The Rose Parade restricts umbrellas in the grandstands so a poncho might be a useful item to pack. The Parade will operate whether rain or shine. During your visit, the temperature should be in the mid 6o's to low 70's daytime and upper 40's at night.

Luggage
Make sure you have comfortable shoes! This tour requires a lot of walking.
Orange luggage tags are provided and are to be placed on your "checked luggage" (large bag). You do not need a tag for your carry-on bag, for which you will be responsible for taking on and off the coach. There is limited space in the cabin of the coach, so unless you require your carry-on bag while traveling, we will stow it in the luggage compartment.
On the first and last nights of this tour, you are welcome to pack your carry-on bag with essentials that would enable us to leave your "checked bag" on the coach. This will facilitate faster check-in and luggage delivery. This is not a requirement, merely a suggestion; we will deliver your "checked bag" to your room on the first and last night if you desire, just like every other night of the tour.
Important Information
Each reservation requires a $250 per person deposit planning fee (exceptions may apply) to be credited toward your final payment. Some or all of your deposit may be non-refundable per our cancellation schedule noted in these Terms & Conditions below. We are happy to accept cash, check (preferred) or credit card (Visa, Mastercard, Discover) for your deposit.
Throughout 2021 we limited capacity on all our tours. This policy was so overwhelmingly popular by Sunrise travelers, we have made it permanent. In 2022 and beyond, we will limit the capacity on our motorcoaches to 80%. Most Sunrise Tours travel on 50-seat coaches with extra legroom, which means guests will enjoy extra legroom AND at least 6-8 empty seats. In the rare cases when we charter a 55-seat coach, there will be at least 10 open seats on the bus.
Our popular on-board refreshment service on travel days will feature a variety of soda, beer, wine spritzers, juices and sparkling water choices served in recyclable aluminum cans. This is a safe and eco-conscious way for us to deliver the ever-popular Sunrise Tours "happy hour" on tour. We do not typically serve bottled water and ask that while on tour you be responsible for your own hydration and consider the Sunrise Tours drink service a welcome refreshment.

Terms and Conditions:
Please refer to our policies HERE for more information on our terms and conditions.

Share it
---