We'll venture deep into the heart of Scandinavia to discover the countries of Norway, Sweden, and Denmark. The Nordic region's natural beauty is truly something to behold and its rugged landscapes are arguably some of the most scenic on earth. During our exploration of Scandinavia, we'll visit historic towns, taste Scandinavian cuisine, and most importantly, meet the warm-hearted Nordic people.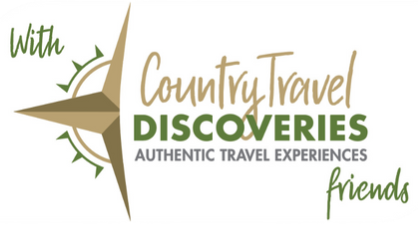 Explore the Viking Ship Museum
Travel the Flam Railway through the Nordic mountains
Enjoy city tours of Stockholm, Copenhagen, and Oslo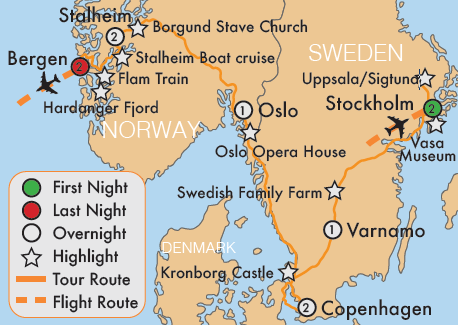 DAYS 1-2: WELCOME TO SWEDEN!
After arriving in the beautiful harbor city of Stockholm, enjoy a city tour to experience this metropolitan area that blends medieval and modern. Our tour will feature views of the Royal Palace from Old Town, where you'll have free time to explore and enjoy lunch on your own. Our last stop of the day is the famous Vasa Museum that highlights the Vasa warship from 1628. Later, we'll enjoy a welcome dinner together as we make new friends. Meals in Flight, D
DAY 3: UPPSALA/SIGTUNA
This morning we explore Uppsala, the original Viking capital of Sweden. Take in all the sights on a guided walking tour of this historic city, including the Carolina Rediviva Library and its impressive medieval cathedral. After lunch, travel to the quaint town of Sigtuna, located on Lake Malaren and known for its well-preserved all-wood houses. Returning to Stockholm for the evening, you'll have time to dine at a local restaurant and take a stroll through the charming city streets. B, L
DAY 4: VARNAMO/FAMILY FARM VISIT
We depart in the morning to travel through Sweden's fabulous countryside to Varnamo, located just south of Lake Vattern. En route, we visit with a traditional Swedish family on their farm. Following a traditional Swedish lunch, travel to your hotel and enjoy a relaxing evening of free time. B, L
DAY 5: DANISH RIVERIA/KRONBORG CASTLE
Today, we ride the ferry to Denmark! On our travels, we'll explore portions of the "Danish Riviera," including a stop at the 16th century Kronborg Castle - the UNESCO World Heritage Site made famous by Shakespeare's Hamlet. Continuing our drive, we'll stop in the Helsingor area to meet a wonderful farm family. After arriving in Copenhagen, the capital of Denmark, we'll settle into our hotel for the next two nights. B, L, D
DAY 6: COPENHAGEN
Enjoy time on your own this morning to explore the National Museum of Denmark, stroll along the harbor area, or perusing the area's quaint shops and restaurants. This afternoon, we'll regroup for a city tour to visit the little Mermaid sculpture, the Gefion Fountain, the palace of the Danish Royal Family, The National Library, and more. Afterwards, we'll enjoy free time at Tivoli Gardens, a charming old fashioned amusement park dating back to 1843. This evening we return to our hotel for dinner together. B, D
DAY 7: ROSKILDE/DFDS SHIP TO NORWAY
Today, we continue our travels to Roskilde where we visit the famous Viking Ship Museum. Here you'll explore their exhibitions and living workshops before enjoying lunch on your own. This evening, we embark on our ship for an overnight crossing to Norway. B, D
DAY 8: OSLO
Wake up this morning in Oslo, the oldest of the Scandinavia capitals with a history dating back 1000 years. Enjoy a narrated tour of the capital and see the world-famous Vigeland Park, Oslo Opera House, and more. After a day of exploration, we enjoy dinner together at our hotel. B, D
DAY 9: STALHEIM
Today we travel charming country roads to a traditional Norwegian mountain farm on our way towards Stalheim. Old traditions and new ways of operating show how the mountain farm life has changed over the years. We'll also visit one of the beautiful Stave churches in Norway before continuing to Stalheim located high on the mountain with sweeping views of the Nærøy valley. B, L, D
DAY 10: FLAM/AURLAND FJORD CRUISE
This morning, take in the breathtaking views from our village hotel before we venture on the Flam Railway. With twisting tunnels that spiral in and out of the Nordic mountains, the Flam Railway reflects the most daring and skillful engineering in railway history. This afternoon, we cruise from Flam to Gudvangen amid spectacular scenery of Aurland and Næroy Fjords. After an exciting day exploring the landscape, we return to our hotel along historic Stalheimskleiva road. B, D
DAY 11: HARDANGER/BERGEN
Travel to the Hardanger Fjord area, known as "Norway's Garden," for the temperate climate and rich soil that produces an amazing array of fruit trees. We'll stop at the Hardanger Juice and Cider factory for a guided tour of the farm and some tasty samples. On our way to Bergen, Norway's second-largest city, we'll take the funicular to Mount Fløien for amazing views of Bergen. We'll savor dinner this evening at Restaurant Fløien before returning to the city. B, D
DAY 12: BERGEN
This morning, we'll visit Bryggen, one of Norway's main attractions known for its colorful wooden houses. The pier "Bryggen" was built after the great fire in 1702 and is included on UNESCO's World Heritage List. We will also see the local Fish Market before our visit to the famous Norwegian composer Edvard Grieg`s home, Troldhaugen, for a guided tour. Afterwards, we return to Bergen for an afternoon at our leisure before a delectable farewell dinner at the historic wharf. B, D
DAY 13: BERGEN/HOME
After fond farewells, return home with memories of our scenic adventures through Scandinavia. B
Dates:
Departure: September 2, 2024
Return: September 14, 2024
Pricing:
Double: $5699
Single: $6399
*Price per person
*Includes round-trip airfare from STL or MCI, call for other gateways
*Passport required
Identification:

Valid passport required to travel.
Luggage:
Orange luggage tags are provided and are to be placed on your "checked luggage" (large bag). You do not need a tag for your carry-on bag, for which you will be responsible for taking on and off the coach. There is limited space in the cabin of the coach, so unless you require your carry-on bag while traveling, we will stow it in the luggage compartment.
Important Information:
Each reservation requires a $250 per person deposit planning fee (exceptions may apply) to be credited toward your final payment. Some or all of your deposit may be non-refundable per our cancellation schedule noted in these Terms & Conditions below. We are happy to accept cash, check (preferred) or credit card (Visa, Mastercard, Discover) for your deposit.
Throughout 2021 we limited capacity on all our tours. This policy was so overwhelmingly popular by Sunrise travelers, we have made it permanent. In 2022 and beyond, we will limit the capacity on our motorcoaches to 80%. Most Sunrise Tours travel on 50-seat coaches with extra legroom, which means guests will enjoy extra legroom AND at least 6-8 empty seats. In the rare cases when we charter a 55-seat coach, there will be at least 10 open seats on the bus.
Our popular on-board refreshment service on travel days will feature a variety of soda, beer, wine spritzers, juices and sparkling water choices served in recyclable aluminum cans. This is a safe and eco-conscious way for us to deliver the ever-popular Sunrise Tours "happy hour" on tour. We do not typically serve bottled water and ask that while on tour you be responsible for your own hydration and consider the Sunrise Tours drink service a welcome refreshment.
Terms and Conditions:
Please refer to our policies HERE for more information on our terms and conditions.
Share it
---