Journey to the "Old South" where history, culture, hospitality and cuisine combine. The beautiful coastal cities of Savannah and Charleston feature colorful avenues and unique stories several centuries in the making. From sprawling plantations to neighborhood restaurants, feel the essence of the South.
Walking tour of the hauntingly beautiful Bonaventure Cemetery, featured in the movie "Midnight in the Garden of Good and Evil"
2-night stay in the Savannah Historic District
2-night stay in the Charleston Historic Didstict
Narrated trolley tour along the cobblestone paved streets of Savannah
Option tour of the American Prohibition Museum
Visit the Charleston Tea Plantation
Narrated boat cruise to historic Fort Sumter
Visit Magnolia Plantation and Gardens, voted one of America's Most Beautiful Gardens
Discover America's Largest Majestic Home, the picturesque Biltmore Estate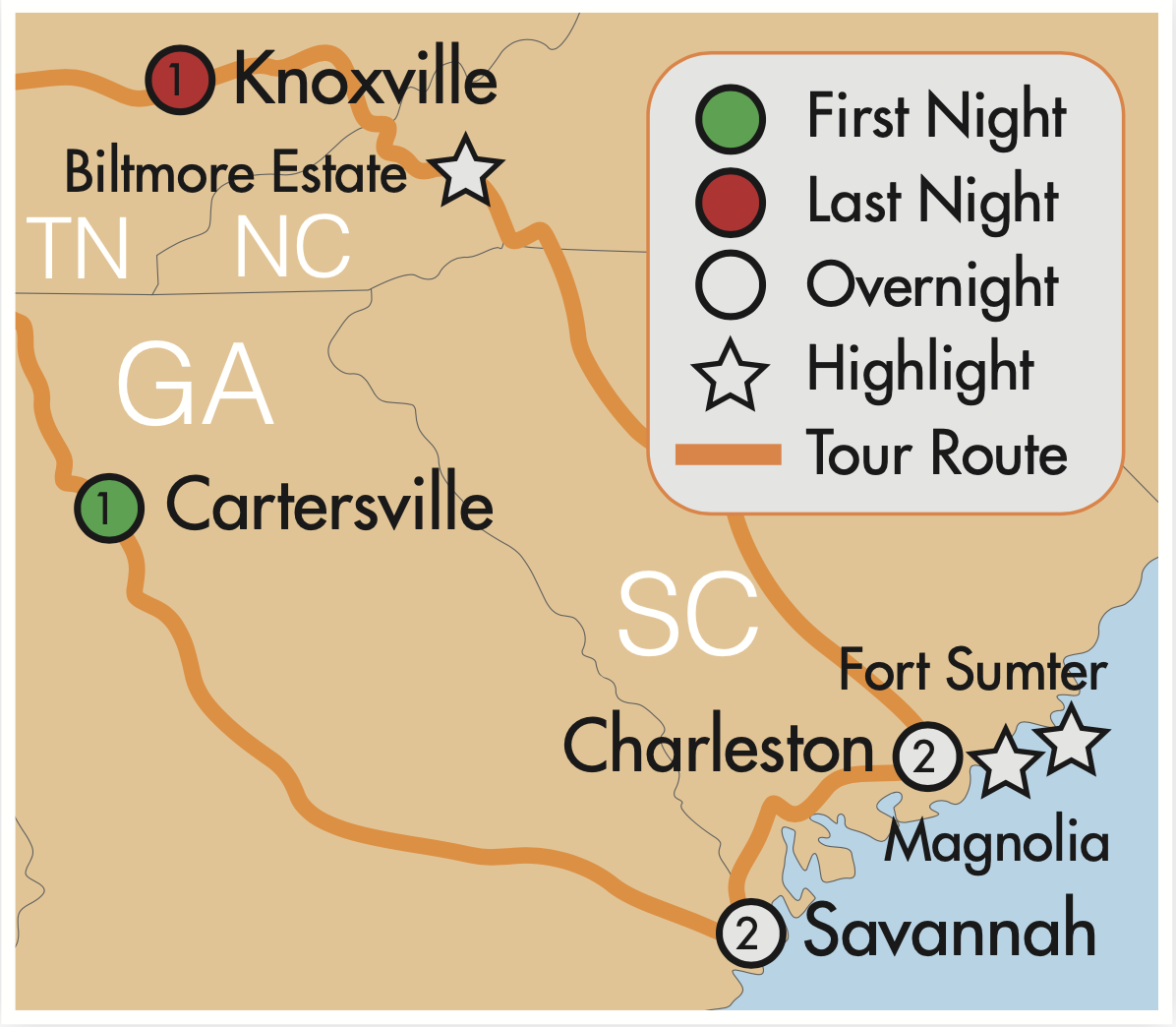 DAY 1: NW GEORGIA, D
DAY 2: SAVANNAH, GA
In Savannah join our local guide for a walking tour of the hauntingly beautiful Bonaventure Cemetery, featured in the movie "Midnight in the Garden of Good and Evil." Enjoy downhome southern cooking during dinner at River House Seafood before checking in for a 2-night stay at Hampton Inn Savannah Historic District. B, D
DAY 3: HISTORIC SAVANNAH
Board an open-air trolley for a narrated sightseeing tour along the cobblestone paved streets of Savannah, the country's largest National Urban Historic Landmarked District. The rest of the day is yours to leisurely explore Savannah's Historic District! Stroll the revitalized historic River Street filled with unique shops, boutiques, and or explore the area's unique museums (additional expense). B, D
DAY 4: CHARLESTON, SC
On picturesque Wadmalaw Island in the heart of South Carolina's low country, visit Charleston Tea Plantation, owned by the Bigelow Tea Company family. After a trolley tour of the beautiful grounds, enjoy a delicious picnic lunch under century-old oak trees. In Charleston, depart on a narrated boat cruise to historic Fort Sumter. Learn about the fort's pivotal role in the American Civil War during a ranger-led tour. Unpack for a 2-night stay in Charleston Historic District. B, L
DAY 5: ANTEBELLUM CHARLESTON
Embrace the history of Charleston at Magnolia Plantation and Gardens, founded in 1676 and voted one of "America's Most Beautiful Gardens," by Travel + Leisure Magazine. Join naturalist guides for an action-packed tram tour of the plantation's 600 acres of wetlands, forests, and marshes – watch for alligators, great blue herons and more! Step back in time with a guided tour of the family home with a glimpse of life in the 19th century. Enjoy free time to explore Charleston's historic City Market area, join our local expert for a guided tour of this city steeped in Colonial and Civil War history. Enjoy a delicious dinner at a local favorite. B, D
DAY 6: ASHEVILLE, NC
Journey through the Blue Ridge Mountains to discover America's largest majestic home, the magnificent Biltmore Estate, completed by George Vanderbilt in 1895. After a gourmet lunch in the estate's Stable Cafe, spend the day exploring the Vanderbilt home and its surrounding century-old gardens filled with thousands of daffodils, tulips, azaleas and more. Continue to Knoxville, TN for an overnight stay. B, L
DAY 7: RETURN HOME B
Dates:
Departure: April 23, 2023
Return: April 29, 2023
AND
Departure: April 30, 2023
Return: May 6, 2023
AND
Departure: November 25, 2023 - HOLIDAY DATE
Return: December 1, 2023 - HOLIDAY DATE
Pricing:
Double: $1859
Triple/Quad: $1649
Single: $2399
*Price per person
Temperatures and Dress:
Dress for traveling will be casual and comfortable. Please bring along comfortable walking shoes. We suggest a hat, sunglasses, sunblock and you may want to pack a swim suit if you would like to swim in the hotel pools. During your visit, the temperature should be as follows:
Cartersville: 76/48
Savannah: 76/60
Charleston: 75/64
Knoxville: 74/51
Luggage:
Orange luggage tags are provided and are to be placed on your "checked luggage" (large bag). You do not need a tag for your carry-on bag, for which you will be responsible for taking on and off the coach. There is limited space in the cabin of the coach, so unless you require your carry-on bag while traveling, we will stow it in the luggage compartment.
Important Information:
Each reservation requires a $250 per person deposit planning fee (exceptions may apply) to be credited toward your final payment. Some or all of your deposit may be non-refundable per our cancellation schedule noted in these Terms & Conditions below. We are happy to accept cash, check (preferred) or credit card (Visa, Mastercard, Discover) for your deposit.
Throughout 2021 we limited capacity on all our tours. This policy was so overwhelmingly popular by Sunrise travelers, we have made it permanent. In 2022 and beyond, we will limit the capacity on our motorcoaches to 80%. Most Sunrise Tours travel on 50-seat coaches with extra legroom, which means guests will enjoy extra legroom AND at least 6-8 empty seats. In the rare cases when we charter a 55-seat coach, there will be at least 10 open seats on the bus.
Our popular on-board refreshment service on travel days will feature a variety of soda, beer, wine spritzers, juices and sparkling water choices served in recyclable aluminum cans. This is a safe and eco-conscious way for us to deliver the ever-popular Sunrise Tours "happy hour" on tour. We do not typically serve bottled water and ask that while on tour you be responsible for your own hydration and consider the Sunrise Tours drink service a welcome refreshment.
Terms and Conditions:
Please refer to our policies HERE for more information on our terms and conditions.
Share it
---