Come immerse yourself in the unique culture and rich history of Switzerland, Austria, Liechtenstein, and Germany as we experience some of Europe's most picturesque landscapes. This tour has it all...from historic cities and storybook like castles to some of the world's most scenic vistas. The dramatic landscapes are sure to take your breath away during this Alpine adventure.
Ride the nostalgic Ziller Valley steam train
Visit Herrenchiemsee Castle
Experience the majesty of Salzburg and The Sound of Music
Experience exceptional views of the Alps
Guided city tour of Innsbruck, Austria
Visit the tiny country of Liechentstein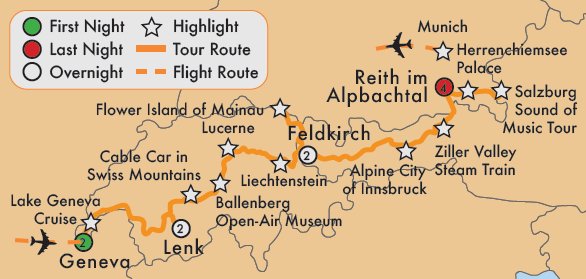 DAYS 1-2: WELCOME TO SWITZERLAND!
After an overnight flight, we arrive in the Land of Milk and Honey for a delicious welcome dinner at our hotel in Chavannes de Bogis, just outside of Geneva. D
DAY 3: LAKE GENEVA CRUISE
Today we experience a scenic Lake Geneva cruise to visit the cities of Geneva, Montreux, and Lausanne. Look in awe at the harbors, castles, vineyards, and snowy peaks of the Swiss and Savoyard Alps. B, D
DAY 4: CHOCOLATE FACTORY/GLACIER3000
Immerse your senses into the wonderful world of chocolate at the Chocolate Factory in Broc today. Discover mysterious Aztec cocoa ceremonies and learn exciting stories from the life of François-Louis Cailler, the founder of the Cailler brand. This afternoon, Glacier 3000 awaits. Ride in the cable car from the Col du Pillon to Scex Rouge experiencing breathtaking panoramic views of the Swiss Mountains. Conclude the day by traveling to Gstaad, a car-free village lined with numerous exclusive shops and restaurants. B, D
DAY 5: LAKE THUN/BALLENBERG OPEN AIRMUSEUM
Travel to glistening Lake Thun, one of the largest lakes in Switzerland, for picture-perfect views.. Then, we're off to Interlaken to experience the Ballenberg Open-Air Museum. Our time here will include an educational look at traditional Swiss culture, along with rest and relaxation in the beautiful scenery. Next, we'll visit the impressive Aare Gorge before heading back to our hotel in the Bernese Oberland fordinner. B, D
DAY 6: LUCERNE/LIECHTENSTEIN
Following breakfast, travel up Mount Pilatus before continuing to the picturesque city of Lucerne, one of the most beautiful cities in Switzerland, for a visit to Chapel Bridge and Lion Monument. As we journey to Austria, we'll stop and pay a visit to Liechtenstein, a small sovereign state between Switzerland and Austria. B, D
DAY 7: LAKE CONSTANCE/FLOWER ISLAND
This morning we will ferry to Constance to stroll through the historic old town and marvel at the romantic alleys and picturesque harbor. Next, we're off to Flower Island of Mainau. Here we will enjoy the lush splendor of flowers, beautiful gardens, tropical greenhouses, the flower water staircase, the palm and butterfly house, the baroque castle, and much more. Continue to St. Gallen in the afternoon where we'll visit the Abbey Library before dinner. B, D
DAY 8: FELDKIRCH/INNSBRUCK
After breakfast visit Feldkirch, an enchanting old town with medieval arcades and winding streets. Continue to Innsbruck, the capital of Tyrol nestled scenically at the foot of the Northern Chain Mountains. See impressive highlights on the guided city tour including the Hofkirche or court church, the iconic Golden Roof, and the Swarovski Crystal world shop. We continue to our hotel and check into the Hotel Kirchenwirt in Reith im Alpbachtal for the next four nights. B, D
DAY 9: ZILLER VALLEY STEAM TRAIN/LAKE ACHEN
Today we ride on the nostalgic Ziller Valley steam train from Jenbach to Mayrhofen and enjoy some schnapps and folk music along the way. Continue to Lake Achensee, where we'll take a boat trip and marvel at the vibrant landscapes lying between two mighty mountain ranges. Continue to the beautiful Gramaital for time on the sun terrace of the Almgasthof and enjoy homemade "Kaiserschmarrn" (a sweet pancake dish). After dinner, a local "Tyrolean Show" with traditional music and dance awaits you! B, L, D
DAY 10: SALZBURG/THE SOUND OF MUSIC
Enjoy a delightful drive through the Alps to the city of Salzburg, home of The Sound of Music and birthplace of Mozart. Take a guided tour around one of the most beautiful cities in Austria to see the filming spots of The Sound of Music, and visit Mozart's Birthplace Museum. B, D
DAY 11: BREAKFAST IN HOME/STEAM TRAIN
A warm and delicious treat greets us this morning as we enjoy breakfast in a typical farm home in the valley of Reith im Alpbachtal. Then, we ride aboard a legendary steam train from Prien station down to the port of Prien/Stock. Embark on a journey back in time as you take a seat in the original lounge car and listen to the puffing of the steam locomotive before you continue by boat to the Herreninsel. Visit Herrenchiemsee Palace, built in 1878 by King Ludwig II. The palace was never completed but was intended to be a replica of the Palace of Versailles. B, D
DAY 12: FLY HOME FROM MUNICH
Transfer to the Munich airport with exciting memories and new friends. B
Dates:
Departure: September 3, 2024
Return: September 14, 2024
Pricing:
Double: $5899
Single: $6369
*Price per person
*Includes round-trip airfare from STL or MCI, call for other gateways
*Passport Required
Identification:

Valid passport required to travel.

Luggage:
Orange luggage tags are provided and are to be placed on your "checked luggage" (large bag). You do not need a tag for your carry-on bag, for which you will be responsible for taking on and off the coach. There is limited space in the cabin of the coach, so unless you require your carry-on bag while traveling, we will stow it in the luggage compartment.
Important Information:
Each reservation requires a $250 per person deposit planning fee (exceptions may apply) to be credited toward your final payment. Some or all of your deposit may be non-refundable per our cancellation schedule noted in these Terms & Conditions below. We are happy to accept cash, check (preferred) or credit card (Visa, Mastercard, Discover) for your deposit.
Throughout 2021 we limited capacity on all our tours. This policy was so overwhelmingly popular by Sunrise travelers, we have made it permanent. In 2022 and beyond, we will limit the capacity on our motorcoaches to 80%. Most Sunrise Tours travel on 50-seat coaches with extra legroom, which means guests will enjoy extra legroom AND at least 6-8 empty seats. In the rare cases when we charter a 55-seat coach, there will be at least 10 open seats on the bus.
Our popular on-board refreshment service on travel days will feature a variety of soda, beer, wine spritzers, juices and sparkling water choices served in recyclable aluminum cans. This is a safe and eco-conscious way for us to deliver the ever-popular Sunrise Tours "happy hour" on tour. We do not typically serve bottled water and ask that while on tour you be responsible for your own hydration and consider the Sunrise Tours drink service a welcome refreshment.
Terms and Conditions:
Please refer to our policies HERE for more information on our terms and conditions.
Share it
---