Over 215 years ago, Lewis and Clark led a historic expedition to the American West that "fired the imagination of the American people and made them feel the full sweep of the continent on which they lived." Along with our Tour Director and an expert historian, retrace this epic journey from Illinois to the Oregon Coast.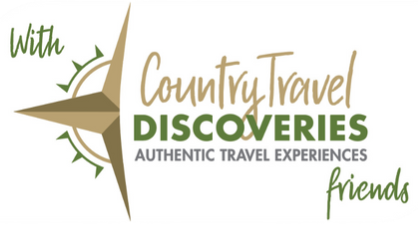 Tour is accompanied by Historian Lou Ritten
Experience three Lewis and Clark interpretive centers
See where it all started at Camp Dubois
Enjoy a half-day jet boat tour on the Snake River
Travel along the scenic Columbia Gorge
See where it all concluded at Fort Clatsop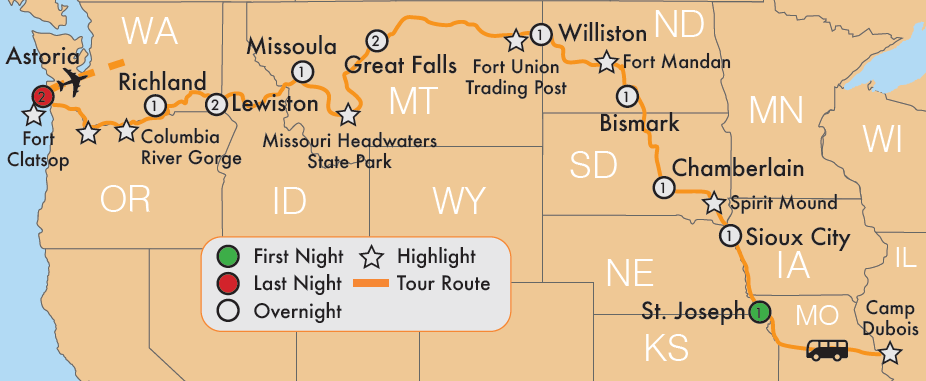 DAY 1: ST. JOSEPH MO
Meriwether Lewis wrote in his journal "The mouth of the river Dubois is to be considered as the point of departure." And just as the Lewis and Clark Expedition began, ours too will begin at Camp DuBois, the winter camp and launch point for the Lewis and Clark Expedition. With our Tour Director, fellow explorers and historical guide, we will continue westward and across Missouri for an overnight stay in St. Joseph, Missouri. B, L
DAY 2: SIOUX CITY, NE
Visit the Missouri River Basin Lewis and Clark Interpretive Center to get a glimpse of the more than 300 flora and fauna discoveries made by explorers. Stop at the Sergeant Floyd Monument, a solemn site that commemorates the only casualty of the expedition. Continue north to the Lewis and Clark Interpretive Center before an overnight stay in S. Sioux City, NE, along the Missouri River. B, D
DAY 3: CHAMBERLAIN, SD
Travel into South Dakota, and capture views at Spirit Mound, where Clark wrote about the beauty of the land, before a visit to Akta Lakota Museum for more interesting stories of his meetings with the Indians. B, D
DAY 4: BISMARCK, ND
Located along the banks of the Mississippi River, visit Fisher's Lily Park, the historic location where Lewis and Clark met with the Teton Lakota Sioux. Enjoy a catered dinner in North Dakota's Heritage Center with time to browse its exhibits. Overnight in Bismarck. B, D
DAY 5: WILLISTON, ND
Trekking west, visit Fort Mandan where the expedition party spent a productive winter gathering information from the friendly Indians and recruited Charbonneau and his wife Sacagawea as interpreters. At Knife River National Historic Site, see the reconstructed winter quarters and earthen lodges of the Northern Indians. Overnight in Williston, ND. B, L
DAY 6: FORT UNION/DECISION POINT
Following the trail, cross into Montana and stop at Fort Union - once the most important fur trading post on the Upper Missouri River. See "Decision Point" where the Missouri and Marias Rivers meet and visit Fort Benton, the last stop for steamboats coming from St. Louis in the 1800s. Unpack for two nights in Great Falls, MT. B, D
DAY 7: GREAT FALLS, MT
The Expedition took 32 days to portage equipment and canoes around five formidable falls in the area. Learn more about this challenge on our visit to the Lewis & Clark Interpretive Center and portage site, followed by a visit to American western artist C. M. Russell's Museum. B
DAY 8: MISSOULA, MT
Take a boat ride between giant cliffs cut by the Missouri River and visit Missouri Headwaters State Park. See the cliff where Lewis saw the confluence of the Jefferson, Madison and Gallatin Rivers. Continue through the mountains in Shoshone territory where Lewis & Clark secured horses to cross the Rocky Mountains. Overnight in Missoula, MT. B, L
DAY 9: LEWISTON, ID
Travel along the Nez Perce Trail along the Bitterroot Range, the worst part of the journey for the expedition. Discover the beauty and history of Weippe Prairie, where breathtaking natural beauty and a significant encounter between Lewis and Clark and the Nez Perce tribe await. Overnight in Lewiston, ID. B, L, D
DAY 10: LEWISTON, ID
Experience the thrill of a half-day jet boat tour on the Snake River, followed by a visit to the Lewis & Clark Discovery Center in Lewiston. Explore the stunning landscapes, feel the rush of the river and delve into the history of Lewis and Clark's expedition. B, L
DAY 11: RICHLAND, WA
Running out of food in what seemed like an endless sea of rugged mountains, the expedition encountered the helpful Nez Perce tribe. Visit Nez Perce National Historical Park before continuing our journey toward the Columbia River. Overnight in Richland, WA, of the Tri-Cities. B, D
DAY 12: THE COLUMBIA RIVER GORGE AREA
Enter our final state, Oregon, and travel along the beautiful Columbia Gorge National Scenic Area while closely hugging the beautiful river. Unpack your bags for a two night stay in Astoria, OR. B, L
DAY 13: FORT CLATSOP
Enjoy the striking coastline of northern Oregon and visit a reconstruction of Fort Clatsop where the expedition spent the winter before returning home. Then, venture to Cape Disappointment, to marvel at the stunning coastal scenery with a deeper appreciation for the spirit of Lewis and Clark! B, L
DAY 14: RETURN HOME
Our flight home takes only several hours, a distance that took Lewis & Clark 6 months to travel! B

Dates:
Departure: July 11, 2024
Return: July 24, 2024
Pricing:
Double: $4199
Triple/Quad: $3799
Single: $5299
*Price per person

Temperatures:
South Sioux City, NE: 84° / 62

Bismarck, ND: 80° / 56°
Willison, ND: 84° / 54°
Great Falls, MT: 84° / 53°
Missoula, MT: 84° / 51°
Richland, WA: 89° / 59°
Astoria, WA: 69° / 53°
Luggage:
Orange luggage tags are provided and are to be placed on your "checked luggage" (large bag). You do not need a tag for your carry-on bag, for which you will be responsible for taking on and off the coach. There is limited space in the cabin of the coach, so unless you require your carry-on bag while traveling, we will stow it in the luggage compartment.
Important Information:
Each reservation requires a $250 per person deposit planning fee (exceptions may apply) to be credited toward your final payment. Some or all of your deposit may be non-refundable per our cancellation schedule noted in these Terms & Conditions below. We are happy to accept cash, check (preferred) or credit card (Visa, Mastercard, Discover) for your deposit.
Throughout 2021 we limited capacity on all our tours. This policy was so overwhelmingly popular by Sunrise travelers, we have made it permanent. In 2022 and beyond, we will limit the capacity on our tours to 80%.
Our popular on-board refreshment service on travel days will feature a variety of soda, beer, wine spritzers, juices and sparkling water choices served in recyclable aluminum cans. This is a safe and eco-conscious way for us to deliver the ever-popular Sunrise Tours "happy hour" on tour. We do not typically serve bottled water and ask that while on tour you be responsible for your own hydration and consider the Sunrise Tours drink service a welcome refreshment.
Terms and Conditions:
Please refer to our policies HERE for more information on our terms and conditions.
Share it
---