Take in the sights and sounds of coastal Virginia this spring along with the renowned Virginia International Military Tattoo - the third largest Tattoo performance in the world. With a blend of history and entertainment, this event hosts bagpipers, military bands, drum corps, and drill teams to make up over 1,000 performers for a musical extravaganza! This vacation also includes four nights oceanside in beautiful Virginia Beach. With unique stops and local highlights, this is a once-in-a-lifetime experience you don't want to miss.
Reserved seats to the Virginia International Tattoo, a musical extravaganza
Visit Virginia's Military Aviation Museum, home to one of the largest private collections of military aircraft
Narrated cruise of the Norfolk Naval Base and see an array of aircraft carriers, destroyers and frigates from the water
Spend four nights in beautiful Virginia Beach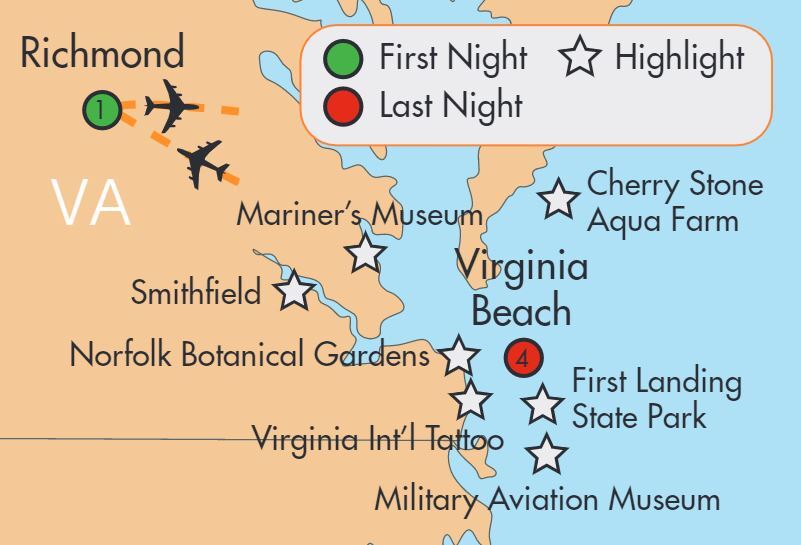 DAY 1: WELCOME TO RICHMOND!
Fly to Richmond head to Virginia Beach for an extended 5-night stay on the shore of the Atlantic Ocean! D
DAY 2: MARINER'S MUSEUM/VICTORY ROVER
Connecting people to the world's water is the mission of the Mariner's Museum. Explore this fascinating museum dedicated to people who live, work, and play on our waterways. Newport News Shipbuilding is the largest employer in Virginia and the sole designer, builder and refueler of United States Navy aircraft carriers. Learn more about the history of shipbuilding here on a driving tour. Next sit down to lunch along the James River. This afternoon, we board the Victory Rover for a Norfolk Harbor cruise which is your front row seat to the naval fleet! See destroyers, submarines, and other vessels while taking in the sights of the harbor. Afterwards, arrive in Virginia Beach, our home for the next four nights. Virginia Beach is the state's largest city and has three miles of boardwalk along the Atlantic Ocean. All guest rooms have an oceanview! B, L
DAY 3: VIRGINIA BEACH CITY TOUR/EASTERN SHORE EXPLORATION
Watch the sunrise this morning from your balcony as we prepare for a wonderful day along the waters of the Chesapeake Bay. First, our local guide will showcase the highlights of Virginia Beach such as the Neptune statue and boardwalk, First Landing State Park, the naval history and much more. Cross the Chesapeake Bay Bridge-Tunnel, one of the "Seven Engineering Wonders of the Modern World". Measuring 17.6 miles from shore to shore, the Bridge-Tunnel connects Hampton Roads to the Eastern Shore of Virginia. Enjoy a delicious lunch before we cross back over the Chesapeake Bay Bridge and into Virginia Beach late afternoon. B, L
DAY 4: NORFOLK BOTANICAL GARDENS/AVIATION MILITARY MUSEUM
We begin the day at the Norfolk Botanical Garden for a narrated tram tour. The gardens are Coastal Virginia's premier horticultural attraction with over 60 different gardens to explore. For example, each spring, more than 175 varieties of rhododendrons and azaleas showcase their flowers, along with dogwoods, daffodils and more. The sights, sounds and smells of the gardens will heighten your senses! Next, we pay a visit to the Military Aviation Museum, home to one of the world's largest private collections of vintage WWI and WWII military aircraft. Each have been beautifully restored to their original condition, many of which are still flown during flight demonstrations. Later, enjoy a delicious dinner along the marina of Virginia Beach. B, L, D
DAY 5: MORNING AT LEISURE/MAC ARTHUR MEMORIAL/VIRGINIA INTERNATIONAL TATTOO
This morning, stroll the boardwalk, shop for souvenirs or just relax on your balcony. After lunch on own, we spend the remainder of the day in Norfolk. See General Douglas MacArthur's Memorial which tells the story of the man and also pays tribute to the many men and women who served with him. The pre-show excitement for today's Military Tattoo builds at "Hullabaloo," located on the plaza of the Scope Arena. See dance and drill performances, take photos with performers and partake in an audience-judged piping competition prior to the main event. Finally, it's time for the main event - the Virginia International Military Tattoo. Sit back and take in this awe-inspiring musical spectacle, which is part parade, part theatre and sometimes, part circus. B, L, D
DAY 6: SMITHFIELD/FAREWELL
This morning we say so long to the ocean and make our way towards Smithfield, VA, the Ham Capital of the World! We will make a stop at the Isle of Wights Museum where we will learn how hams are smoked and cured followed by a time to explore the unique shops lining the streets of Smithfield. We will enjoy a farewell lunch at the Smithfield Inn before returning to Richmond and home. B, L

Dates:

Departure: April 17, 2024
Return: April 22, 2024
Pricing:
Double: $2,399
Single: $2,799
*Price per person
*Includes roundtrip airfare from STL or MCI
Average Temperatures:

Richmond, VA: 71° / 46°
Virginia Beach: 68° / 48°

Luggage:
Orange luggage tags are provided and are to be placed on your "checked luggage" (large bag). You do not need a tag for your carry-on bag, for which you will be responsible for taking on and off the coach. There is limited space in the cabin of the coach, so unless you require your carry-on bag while traveling, we will stow it in the luggage compartment.
On the first and last nights of this tour, you are welcome to pack your carry-on bag with essentials that would enable us to leave your "checked bag" on the coach. This will facilitate faster check-in and luggage delivery. This is not a requirement, merely a suggestion; we will deliver your "checked bag" to your room on the first and last night if you desire, just like every other night of the tour.
Identification:
Since we are traveling by plane you must bring a valid state-issued ID or passport.

Important Information:
Each reservation requires a $250 per person deposit planning fee (exceptions may apply) to be credited toward your final payment. Some or all of your deposit may be non-refundable per our cancellation schedule noted in these Terms & Conditions below. We are happy to accept cash, check (preferred) or credit card (Visa, Mastercard, Discover) for your deposit.
Throughout 2021 we limited capacity on all our tours. This policy was so overwhelmingly popular by Sunrise travelers, we have made it permanent. In 2022 and beyond, we will limit the capacity on our motorcoaches to 80%. Most Sunrise Tours travel on 50-seat coaches with extra legroom, which means guests will enjoy extra legroom AND at least 6-8 empty seats. In the rare cases when we charter a 55-seat coach, there will be at least 10 open seats on the bus.
Our popular on-board refreshment service on travel days will feature a variety of soda, beer, wine spritzers, juices and sparkling water choices served in recyclable aluminum cans. This is a safe and eco-conscious way for us to deliver the ever-popular Sunrise Tours "happy hour" on tour. We do not typically serve bottled water and ask that while on tour you be responsible for your own hydration and consider the Sunrise Tours drink service a welcome refreshment.
Terms and Conditions:
Please refer to our policies HERE for more information on our terms and conditions.

Share it
---