Ride the rails back to the glory days when mighty steam-and diesel-powered trains were the fashionable way to travel. You'll journey on four rare, vintage trains past scenic countryside, rolling mountains, lazy rivers and impressive architectural sights including the New River Gorge Bridge! Relive the heydays of thriving coal and lumber towns, and reminisce about the days of horse-drawn vehicles and steam railroads.
Ride four vintage trains: Western Maryland Scenic Railroad, The Potomac Eagle, New Tygart Flyer, and Cass Scenic Railroad
Beckley Coal Mine tour and underground "man car" ride
Stay at Roanoke's magnificent 4-Diamond Stonewall Resort
Evening music performance at the Gandy Dancer Theater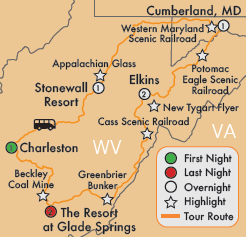 DAY 1: WELCOME TO WEST VIRGINIA
Travel to Charleston to begin our adventure. D
DAY 2: TALA/APPALACHIAN GLASS
We head to Weston, WV today to explore and hear the stories from the Trans-Allegheny Lunatic Asylum (TALA), a building that is one of the largest hand-cut stone buildings in the United States at almost a quarter mile long. After lunch, the skilled artists at Appalachian Glass will delight with a demonstration of their delicate "friendship balls" once common in 1800s West Virginia. Tonight, relax at the magnificent Stonewall Resort in Stonewall Resort State Park. B, L
DAY 3: WEST VIRGINIA UNIVERSITY/FROSTBURG FLYER-WESTERN MARYLAND SCENIC RAILROAD
We start this morning with a guided tour of West Virginia University in Morgantown. Originally established in 1867 using the Morrill Act that President Lincoln signed, this college specializes in teaching agriculture and "mechanic arts". The Western Maryland Scenic Railroad excursion is an exciting mix of mountain top scenery and rich transportation history. Leaving Frostburg, the route travels east, descending grades up to 2.8% on the 16-mile trek through the 914-foot Brush Tunnel under Piney Mountain, around Helmstetter's Horseshoe Curve, and through a breach in the Allegheny Mountains over an iron truss bridge. This evening, we head to dinner at Town Hill Bed & Breakfast with an amazing view of three states and seven counties. B, L, D
DAY 4: RIDGEDALE FARM/POTOMAC EAGLE
Built in 1835 by a 5th cousin of George Washington, we head to the Historic Ridgedale Farm to tour the impressive brick residence. Then, make sure your cameras are ready for one of America's most breathtaking train rides—the Potomac Eagle Scenic Railroad. In the spectacular narrow valley called "the Trough," you'll pass above the Potomac River, where the water is so clear you can see the fish! In addition to the beautiful scenery and rich history, passengers can enjoy the opportunity to see American bald eagles. B, L
DAY 5: NEW TYGART FLYER/GANDY DANCER SHOW
Today, experience a relaxed, 46-mile round-trip excursion aboard the vintage, diesel powered New Tygart Flyer featuring an "S" curve tunnel, a 1,500 feet deep canyon with densely forested slopes, and a high bridge over the meandering Shavers Fork of the Cheat River. After a hearty dinner this evening, sit back and listen to the fabulous Gandy Dancer Show as they serve up a Branson-style experience with music from the 1950's through today! B, L, D
DAY 6: CASS SCENIC RAILROAD/GREENBRIER BUNKER TOUR
Cass Scenic Railroad State Park will transport you back to the heyday of steam locomotives and thriving logging towns. The highlight is a thrilling 2-hour long ride on an old-fashioned logging train—steam powered Shay locomotive chugging up a logging line to Whittaker Station, an authentically recreated logging camp. Later, head to The Greenbrier to tour the Bunker that was built as a top secret U.S. government relocation facility originally built in the 60's. We then head to The Resort at Glades Springs for the next two nights. B, L, D
DAY 7: BECKLEY COAL MINE/COAL CAMP MEMORIES
Today we tour the Beckley Exhibition Coal Mine which boasts 1,500 feet of underground passages. The highlight is a fascinating journey below ground with an experienced coal miner in authentic, track-riding "man cars." This afternoon is yours to explore the resort or take a dip in the indoor pool. Tonight, we gather for dinner for a performance of Coal Camp Memories by local storyteller Karen Vuranch. B, D
DAY 8: NEW RIVER GORGE/HAWKS NEST STATE PARK
At 876 feet high and 1,700 feet long, New River Gorge National Park is home to the world's third highest single span steel arch bridge at 876 feet high and 1,700 feet long. Enjoy the breathtaking views here before heading off to Hawks Nest State Park for more amazing views of the New River and lunch at the lodge. Then, head home with happy memories of rail adventure and mountain splendor. B, L
DAY 9: RETURN HOME B
Dates:
Departure: October 7, 2024
Return: October 15, 2024
Pricing:

Double: $2,999
Single: $3,399
Luggage
Orange luggage tags are provided and are to be placed on your "checked luggage" (large bag). You do not need a tag for your carry-on bag, for which you will be responsible for taking on and off the coach. There is limited space in the cabin of the coach, so unless you require your carryon bag while traveling, we will stow it in the luggage compartment.
On the first and last nights of this tour, you are welcome to pack your carryon bag with essentials that would enable us to leave your "checked bag" on the coach. This will facilitate faster check-in and luggage delivery. This is not a requirement, merely a suggestion; we will deliver your "checked bag" to your room on the first and last nights if you desire, just like every other night of the tour.
Important Information:
Each reservation requires a $250 per person deposit planning fee (exceptions may apply) to be credited toward your final payment. Some or all of your deposit may be non-refundable per our cancellation schedule noted in these Terms & Conditions below. We are happy to accept cash, check (preferred) or credit card (Visa, Mastercard, Discover) for your deposit.
Throughout 2021 we limited capacity on all our tours. This policy was so overwhelmingly popular by Sunrise travelers, we have made it permanent. In 2022 and beyond, we will limit the capacity on our motorcoaches to 80%. Most Sunrise Tours travel on 50-seat coaches with extra legroom, which means guests will enjoy extra legroom AND at least 6-8 empty seats. In the rare cases when we charter a 55-seat coach, there will be at least 10 open seats on the bus.
Our popular on-board refreshment service on travel days will feature a variety of soda, beer, wine spritzers, juices and sparkling water choices served in recyclable aluminum cans. This is a safe and eco-conscious way for us to deliver the ever-popular Sunrise Tours "happy hour" on tour. We do not typically serve bottled water and ask that while on tour you be responsible for your own hydration and consider the Sunrise Tours drink service a welcome refreshment.
Terms and Conditions:
Please refer to our policies HERE for more information on our terms and conditions.
Share it
---