Watch cowboys and cowgirls as they roundup and drive a herd of 1,300 bison. Each fall the Great Buffalo Roundup allows for sorting, vaccination and branding of these great icons of the American West. Not only a sight to see but also a critical management tool in maintaining a strong and healthy herd!
4-night stay in Rapid City
Guided tours to Mount Rushmore
and Crazy Horse Monument
Great Buffalo Roundup in
Custer State Park
Guided tour and dinner in Deadwood
Scenic tour of Badlands National Park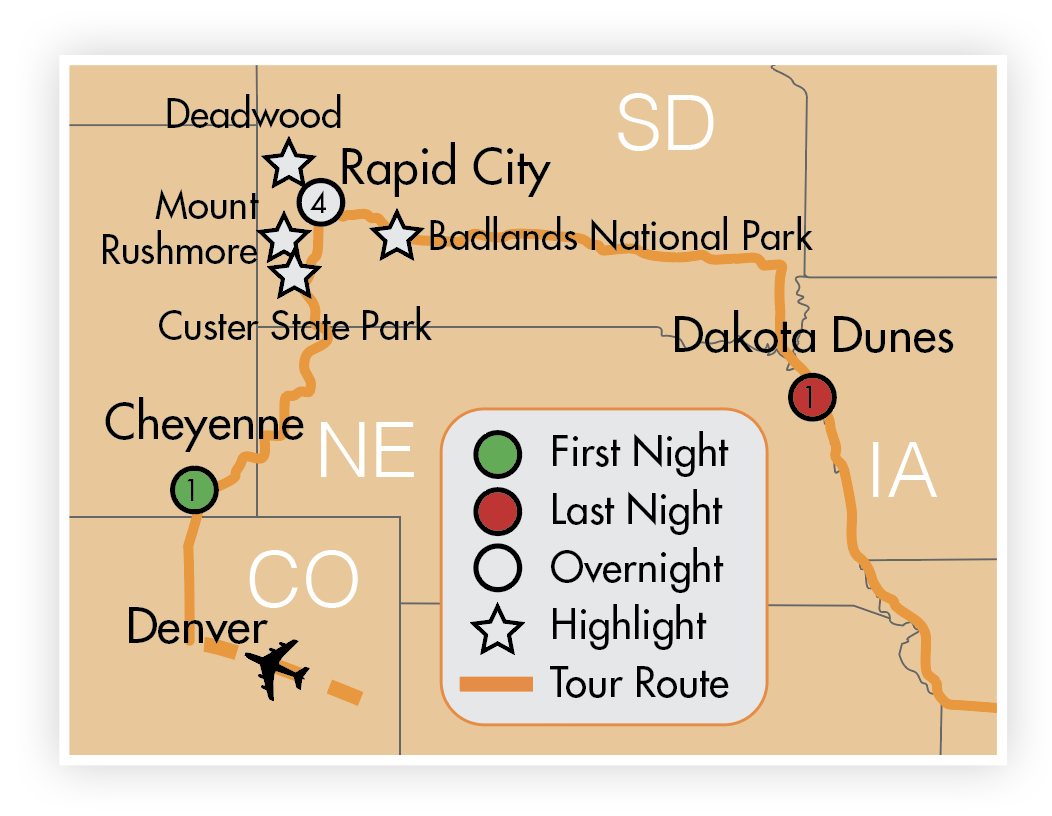 DAY 1: ARRIVE
Fly into Denver and head north to Cheyenne for dinner at a Sunrise "western" favorite Bunkhouse Bar & Grill and an overnight stay. D
DAY 2: RAPID CITY, SD
Visit famed Fort Laramie, the "grand old post" that witnessed the entire sweeping saga of America's western expansion and Indian resistance. In Hot Springs, see the impressive Mammoth Site museum and paleontological site that contains the remains preserved by entrapment in a karst sinkhole during the Pleistocene era. Travel through Wind Cave National Park to enjoy an old west supper at Blue Bell Lodge before getting comfortable for a 4-night stay at the Fairfield Inn & Suites Rapid City, SD. B, D
DAY 3: "PAHA SAPA" (THE BLACK HILLS)
Start the day with a factory tour of Black Hills Gold manufacturing site. A local expert will guide us through the Black Hills including visits to Mount Rushmore and the Crazy Horse Monument. This evening visit Suzie Cappa Art Center for a private dinner followed by "Sequoia" who will dance, play the flute and share Sioux Indian culture stories. B, D
DAY 4: BUFFALO ROUND UP
Today's the day! Enter Custer State Park bright and early for the annual Great Buffalo Roundup. Feel the thunderous rumble as cowboys and cowgirls saddle up to drive the park's approximately 1,300 bison into corrals to maintain a strong and healthy herd. Enjoy lunch in Keystone, SD before boarding the 1880 Train for a journey through the Black Hills National Forest on a vintage like train that helped develop the West. B
DAY 5: DEADWOOD
Travel to Lead, SD along the Custer Trail and indulge in the rich mining heritage with a guided tour of the Black Hills Mining Museum. Try your hand at old fashioned gold panning! Experience the Wild West history of Deadwood, SD and visit Mount Moriah Cemetery where the graves of Wild Bill Hickok and Calamity Jane are located. Enjoy leisure time to explore Deadwood before dinner at a local favorite. B, D
DAY 6: BADLANDS NATIONAL PARK
Explore the sculpted buttes and pinnacles of Badlands National Park. Take a look into prehistoric ages preserved and fossilized in the layers of sediment throughout this colorful park. Spend time at the world-famous Wall Drug Store, welcoming westward visitors into its gift shops and restaurant since 1931. Continue to Dakota Dunes for dinner and an overnight stay. B, D
DAY 7: RETURN HOME B
Dates:

Departure: Sep 26, 2023

Return: Oct 2, 2023
Pricing:
Double: $1999
Triple/Quad: $1829
Single: $2399
*Price per person
*Includes airfare from STL or MCI (call for other gateway cities)
Luggage:
Orange luggage tags are provided and are to be placed on your "checked luggage" (large bag). You do not need a tag for your carry-on bag, for which you will be responsible for taking on and off the coach. There is limited space in the cabin of the coach, so unless you require your carry-on bag while traveling, we will stow it in the luggage compartment.
Important Information:
Each reservation requires a $250 per person deposit planning fee (exceptions may apply) to be credited toward your final payment. Some or all of your deposit may be non-refundable per our cancellation schedule noted in these Terms & Conditions below. We are happy to accept cash, check (preferred) or credit card (Visa, Mastercard, Discover) for your deposit.
Throughout 2021 we limited capacity on all our tours. This policy was so overwhelmingly popular by Sunrise travelers, we have made it permanent. In 2022 and beyond, we will limit the capacity on our motorcoaches to 80%. Most Sunrise Tours travel on 50-seat coaches with extra legroom, which means guests will enjoy extra legroom AND at least 6-8 empty seats. In the rare cases when we charter a 55-seat coach, there will be at least 10 open seats on the bus.
Our popular on-board refreshment service on travel days will feature a variety of soda, beer, wine spritzers, juices and sparkling water choices served in recyclable aluminum cans. This is a safe and eco-conscious way for us to deliver the ever-popular Sunrise Tours "happy hour" on tour. We do not typically serve bottled water and ask that while on tour you be responsible for your own hydration and consider the Sunrise Tours drink service a welcome refreshment.
Terms and Conditions:
Please refer to our policies HERE for more information on our terms and conditions.
Share it
---