Each winter, roads in Yellowstone close for the season leaving a quiet wilderness blanketed with snow and teeming with wildlife. Aboard our private snowcoaches, explore the majesty and wonder of Yellowstone like you've never seen it before!
Including two days of touring the Park and a free day filled with optional tours to create your own adventure!
Winter sleigh ride through Gallatin National Forest
Heated snow coach tour through Yellowstone including stop at Old Faithful
Free day to choose among many optional activity opportunities
Guided tour of the Lamar Valley - "America's Serengeti" – and Mammoth Hot Springs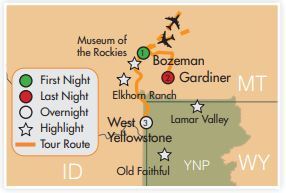 DAY 1: BOZEMAN
Travel to Bozeman, MT for a welcome dinner and overnight stay at the Grantree Hotel. D
DAY 2: WEST YELLOWSTONE
Spend the morning at the Museum of the Rockies to learn how the Yellowstone area became a hotbed for geologic activity and wildlife. Continue to West Yellowstone for a 3-night stay on the edge of the world's first National Park. B, D
DAY 3: OLD FAITHFUL
Journey into Yellowstone National Park aboard a private, heated snowcoach. Closed to normal vehicles, this is the only way to see Yellowstone cloaked in its winter beauty. Watch as herds of bison trudge through snowy valleys and see Old Faithful cast steamy water high into the winter sky. After a day exploring the snowy wilderness in comfort, enjoy dinner in West Yellowstone. B, L, D
DAY 4: FREE DAY/OPTIONAL TOURS
Spend a free day exploring the area, choosing from many exciting options. Return to the Park, this time to the Grand Canyon of the Yellowstone, on another snowcoach tour. Visit the Grizzly and Wolf Discovery Center plus other attractions in West Yellowstone. Feeling adventurous? How about a guided snowmobile tour in the Park? Options abound to make your winter Yellowstone journey a memorable one. B
Optional Activities (cost TBD, call for more info):
Snowcoach Tour to Canyon: Enjoy a guided snowcoach tour in the park to the Grand Canyon of the Yellowstone, where you'll see Lower Falls and Hayden Valley, along with thermal features and wildlife.
Snowmobile Tour: Join a guided full day tour driving your own snowmobile to either Old Faithful or Canyon. Experience not necessary, not recommended for people with mobility concerns.
Spend the day in West Yellowstone visiting attractions such as the Grizzly & Wolf Discovery Center, the Yellowstone IMAX theatre, and the downtown strip of shops and restaurants (no advanced registration required.)
Rent equipment such as snowshoes, snowmobiles, or cross-country skis to explore the areas around West Yellowstone (book on own).
DAY 5: WINTER SLEIGH RIDE
Travel through a winter wonderland aboard a horse drawn sleigh in Gallatin National Forest. Enjoy a homemade western meal at Elkhorn Ranch before continuing to Yellowstone's northern gateway, Gardiner. Check-in for 2 nights at the Abrasoka Lodge and enjoy the views of the park from your private balcony overlooking the mighty Yellowstone River. B, L
DAY 6: LAMAR VALLEY
A naturalist guide takes us into the magical Lamar Valley, where bison, elk, and pronghorn graze in the territories of the Park's favorite predator - gray wolves. Since being reintroduced in 1995, wolves have been at the top of the bucket list for wildlife sightings in Yellowstone. After a morning on safari, enjoy lunch at the historic Mammoth Hot Springs Hotel and a stroll along the area's colorful thermal features before returning to Gardiner. B, L
DAY 7: RETURN HOME
Return to Bozeman and fly home with wonderful memories of a great adventure. B
ACCOMMODATIONS
Night 1: Best Western Plus Grantree Inn, Bozeman, WY or similar
Nights 2-4: Yellowstone Park Hotel, West Yellowstone, MT
Nights 5-6: Abrasoka Lodge, Gardiner, MT

Dates:

Departure: January 26, 2024 - SOLD OUT
Return: February 1, 2024 - SOLD OUT
AND

Departure: January 28, 2024 - SOLD OUT
Return: February 3, 2024 - SOLD OUT
Pricing:
Double: $3099
Triple/Quad: $2939
Single: $3399
*Price per person
*Includes roundtrip airfare from STL or MCI
Temperatures and Dress:
The following are the average temperatures in: Bozeman, 38/18 Gardiner, MT: 30/15, Yellowstone: 29/5
You will want to bring layers and ample gear for winter weather. Please bring along comfortable walking shoes. We also suggest sunglasses, sunblock and an umbrella in case of inclement weather and you may want to pack a swim suit if you would like to swim in the hotel pools.

We recommend bringing cleats (Yaktrax Pro Traction Cleats or something similar), worn over your shoes or boots, to help provide additional traction and navigate the winter terrain in Yellowstone. These may be found at a local sporting goods store, online at amazon.com or other sporting goods store websites. They are also sold inside the park, but supplies are limited and typically more expensive.

Luggage:
Orange luggage tags are provided and are to be placed on your "checked luggage" (large bag). You do not need a tag for your carry-on bag, for which you will be responsible for taking on and off the coach. There is limited space in the cabin of the coach, so unless you require your carry-on bag while traveling, we will stow it in the luggage compartment.
On the first and last nights of this tour, you are welcome to pack your carry-on bag with essentials that would enable us to leave your "checked bag" on the coach. This will facilitate faster check-in and luggage delivery. This is not a requirement, merely a suggestion; we will deliver your "checked bag" to your room on the first and last night if you desire, just like every other night of the tour.
Identification:
Since we are traveling by plane you must bring a valid state-issued ID or passport.

Important Information:
Each reservation requires a $250 per person deposit planning fee (exceptions may apply) to be credited toward your final payment. Some or all of your deposit may be non-refundable per our cancellation schedule noted in these Terms & Conditions below. We are happy to accept cash, check (preferred) or credit card (Visa, Mastercard, Discover) for your deposit.
Throughout 2021 we limited capacity on all our tours. This policy was so overwhelmingly popular by Sunrise travelers, we have made it permanent. In 2022 and beyond, we will limit the capacity on our motorcoaches to 80%. Most Sunrise Tours travel on 50-seat coaches with extra legroom, which means guests will enjoy extra legroom AND at least 6-8 empty seats. In the rare cases when we charter a 55-seat coach, there will be at least 10 open seats on the bus.
Our popular on-board refreshment service on travel days will feature a variety of soda, beer, wine spritzers, juices and sparkling water choices served in recyclable aluminum cans. This is a safe and eco-conscious way for us to deliver the ever-popular Sunrise Tours "happy hour" on tour. We do not typically serve bottled water and ask that while on tour you be responsible for your own hydration and consider the Sunrise Tours drink service a welcome refreshment.
Terms and Conditions:
Please refer to our policies HERE for more information on our terms and conditions.

Share it
---